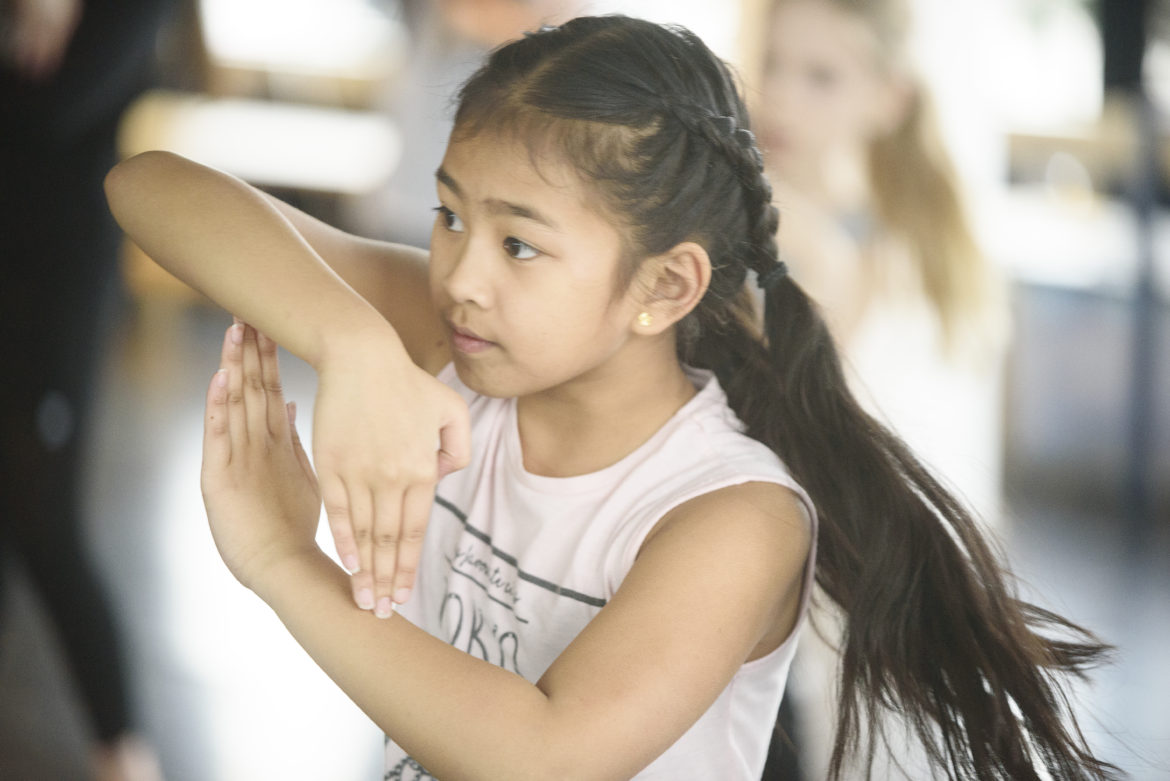 New Dance Young Talent
for english scroll down
Het New Dance Young Talent Programma is een groot succes geweest in 2017.
12 meiden en 2 jongens hebben geleerd, gelachen en gezweet in de studio's en hard gewerkt aan hun persoonlijke dansontwikkeling. Onderdeel van het programma waren een uitwisseling naar Macedonië, vele voorstellingen, lezingen van een voedingsdeskundige en een psycholoog en vele uren dansplezier.
Na dit grote succes organiseert New Dance Young Talent het tweede seizoen met een auditie op 18 Juni!
New Dance Young Talent is een intensief dansprogramma speciaal ontwikkeld voor aanstormend talent van 7 tot 12 jaar, zodat ze vervolgens door kunnen stromen naar het brede dansveld.  In het programma is naast het ontwikkelen van techniek, ook het ontwikkelen van creativiteit een centraal begrip.
Het programma is een groeimodel dat met samenwerkingspartners wordt doorontwikkeld, uitgevoerd en gemonitord. Vele voorbereidingen en onderzoeken zijn al lange tijd bezig met o.a. Ulrich van Werkhoven, psycholoog en docent aan Psychologie opleiding te Leiden, Joan van der Mast, artistiek leidster van het New Dance Centre en Karin Lambrechtse, voedingsdeskundige en ex-danseres bij Introdans.
Mocht je meer willen weten over dit programma en een dag meemaken? Kom dan naar de open dag op 20 mei! 
Auditie
Op zondag 18 juni organiseren wij van 12:00 tot 16:00 uur een auditie voor iedereen die graag een deel zou willen uitmaken van dit talentenprogramma. Deze zal plaatsvinden te Binkhorstlaan 135 in Studio 1 van het New Dance Center gelegen in het MOOOF gebouw.
De auditie zal bestaan uit 4 onderdelen, namelijk Modern, Klassiek, Improvisatie en Hip Hop.
Het programma is als volgt:
11.30 Welkom & ontvangst
12.00-12.45: Klassiek
13:00-13:45: Modern
14:00-14:30: Improvisatie
14:45-15:15: HipHop
15:30-16:00: Gesprek
Aanmelden
Aanmelden kan via service@newdancecenter.nl. Hier kunt u ook terecht met al uw vragen.
De kosten voor de auditie bedragen €17,50. Dit gelieve contant te betalen op de dag van de auditie.
Ook kinderen zonder dans ervaringen zijn meer dan welkom in de auditie!
New Dance Center
MOOOF Gebouw
Binckhorstlaan 135
2516 BA Den Haag
————————————————————————————————–
AUDITION New Dance Young Talent
Sunday June 18th
Spread the word!
The New Dance Young Talent Program has been a great success in 2017.
12 girls and 2 boys have been learning, laughing and sweating in the studios and worked hard on their personal dance development. Part of the program ware an exchange to Macedonia, many shows, lectures by a nutritionist and a psychologist and many hours of dance pleasure.
After this great success, New Dance Young Talent organizes the second season with an audition on June 18th!
If you are interest but you would like to see for yourself how this program is, come to our open day on the 20th of may! 
Audition
On Sunday, June 18th, we will organize an audition from 12:00 untill 16:00 for anyone who would like to be part of this talent program. This will take place at Binkhorstlaan 135 in Studio 1 of the New Dance Center located in the MOOOF building.
The audition will consist of 4 parts: Modern, Classical, Improvisation and Hip Hop.
The program is as followed:
11.30 Welcome & Reception
12.00-12.45: Ballet
13:00-13:45: Modern
14: 00-14: 30: Improvisation
14:45-15:15: HipHop
15:30-16:00: Aftertalk
Apply
Registration can be done via service@newdancecenter.nl. Here you can also sent all your questions to.
The fee for the audition is € 17.50. Please pay this cash on the day of the audition.
Even children without dance experiences are more than welcome to  audition!
New Dance Center
MOOOF Building
Binckhorstlaan 135
2516 BA The Hague